Can you really rank #1 in Google searches by paying $99?
We all get the spam emails from a random Company with a suspect gmail or yahoo address (i.e. [email protected]) promising to "fix everything wrong with your website" and "rank #1 for All your keywords today!" Can it really be true? For just a one-time $99 fee, or $199 a month? Well…yes and no, but the short answer is NO.
I've worked in Search Engine Optimization and online advertising for over 20 years at several Big Media giants in addition to running my own company, DigitalHipster, for the past 10 years.  I'm here to tell you that the notion of an SEO quick fix simply isn't true and a waste of your money. Just like you can't expect a Maserati for zero-down and $99 a month, you can't buy significant website traffic, and build real organic rankings without a realistic investment of time and money. 
Yes, you can definitely rank #1 for branded searches like your company or brand's name (provided it's not too common).  In fact, you probably already do if you have the basics already done on your website. Your website may also rank for variants of branded and local search terms that are relevant to your business or brand without even paying an SEO agency $99. For example, DigitalHipster is #1 for "Hipster Akron web designer" in Google searches. That's easy.
However, with a top SEO agency producing quality optimized-content and developing a professionally designed SEO-optimized responsive website, you can likely get your business's website to rank higher for many more organic Google search results. "Organic" refers to searches which are not paid Google Ads or Google Map Promotions. Only about 20-30% of online clicks from searches are to Ads, but I am not discounting the importance of Google Ads for a robust and well-rounded online marketing campaign. It's the other 60-70% of potential clicks to your website that comes from hiring a top local SEO company. If your business is in a saturated and highly competitive industry like web design, law, real estate or finance, you should never fall for any SEO agency who tells you will be #1 for overly broad search terms like "Top Web Design," Best Attorney," "Financial Planner," "Real Estate Agent," or "Auto Dealer."
What keywords or search terms does your business need?
What you really need to be concerned about is not a holy grail of keywords or rankings, rather, you should be looking to develop a portfolio of relevant search terms, specific questions or solutions for which your potential customers are searching.  Then, you need to develop solid and substantial answers for them. The real search rankings that drive real traffic and relevant clicks are not always easy to see without first doing proper keyword competitive research. 
For example, Google searches for "Calls about Google Maps" is a high converting search term for which we rank #1 because we've created relevant optimized content for it, but it's just one of many search terms we rely on to drive traffic legitimate traffic to our website.  We also consistently rank #1 organically for searches of "Akron Social Media" and "Top Akron SEO Agency."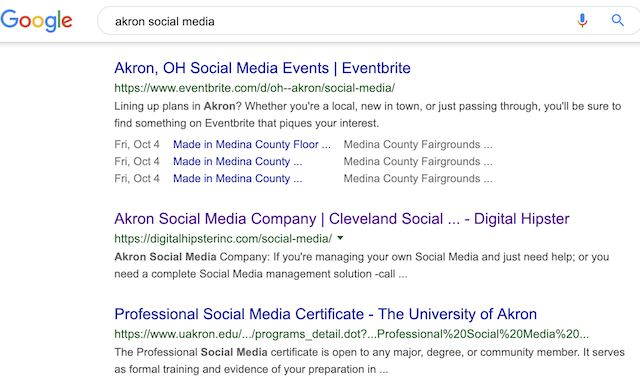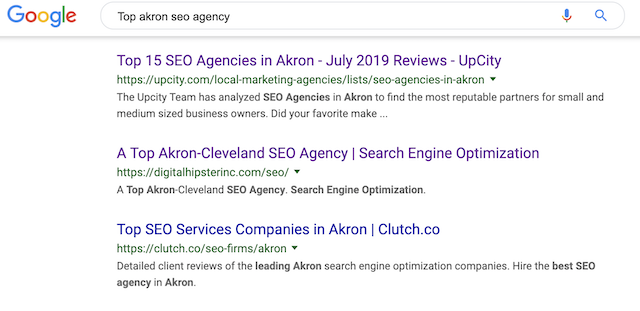 SEO is n
ot a one-time fix.
Search Engine Optimization is an ongoing endeavor to provide quality and relevant content that search engines will deem important enough to index and rank high in searches. It's not just fixing a few things on your website -although that is often part of the process. Nor is it just doing Social Media posts and linking to your website-but that's still part of the process.  It's the combined effort of multiple online content efforts with your website being at the center. Yes, you can certainly write a single blog post or update your Titles, Metas, etc. on a neglected website, and see an improvement in your rankings or rank for new keywords. However, any given website page can typically only rank for two-three keywords or search terms. For example, if you are writing a blog post all about web designers in Ohio, and you suddenly decide you'd like the page to also rank for chocolate brownies, it's not gonna happen.  You're going to need to write deep content about those yummy brownies on another page. Even so, if your whole website is about web design, but you want to rank for brownies, you're going to need to start a new website.  This example aside, 2-3 search terms won't typically generate enough website traffic for any one business. The reason being is that everyone searches differently, and while there are many "high volume search terms," it takes a portfolio of content to really start seeing results. Think of a search engine optimization campaign as a marathon rather than a sprint.
So, what is a realistic budget for SEO?
To develop real organic search engine rankings in Akron, Cleveland or anywhere, you need to work with a realistic budget and an SEO expert with a solid track record. Authentic organic search engine optimization involves more than just updating a few Titles and Metas on your website,  installing some magic plug-in, or accepting some "guest blogger" request. A true strategy needs to be developed in synch with developing compelling creative and original content. (Hmm, our tagline just happens to be Compelling Creative in Synch with Technology™) 
It takes time and manpower for research, having an SEO expert who actually knows how to configure that "magic" SEO plugin, creative development, and ongoing monitoring and accountability.You should expect to invest as much or more for effective SEO as you did for running a weekly ¼ page or larger print ad in a local newspaper like The Akron Beacon Journal, but the ROI should be much greater.  An experienced SEO agency or individual can help you find your niche in Search and develop deep optimized content across the search and social landscape, but know that a dedicated digital team usually produces better results than a lone gun SEOer.
Your actual investment for SEO depends on your type of business and many factors.
For a real estate agent, it may mean creating more relevant SEO-optimized content about their Cleveland expertise or their Akron neighborhood knowledge not just on Social Media, but on their website. Every business's current online footprint, depth of content requirements, and website architecture are unique. 
These unique variable for every SEO project are one reason any reputable digital marketing or SEO agency will never email or post on their website a "one size fits all" flat rate or a ridiculously low monthly or flat rate of "$99 or $199." If you are really serious about developing a better online presence in local or worldwide searches that are likely to lead to a conversion (i.e. sale, appointment, seminar, online purchase or newsletter signup), then you or your SEO agency is going to need to do some more thinking and heavy lifting.  
If you are expecting real online leads that convert to meaningful eCommerce sales or appointments for your sales reps, then it simply is not realistic to hire a talented SEO agency with a solid track record without expecting to invest $1500-$10,000.  Your overall budget depends on a number of variables such as your specific lead, conversion, and sales goals as well as outside factors such as competition, average sale per lead, and…..?
An honest and successful SEO or digital marketing agency may even charge an initial upfront fee for research to assess and develop a strategy.  Some agencies include this in their overall quote, but as they say, you get what you pay for and that is very true in SEO.
How do you find a Top SEO Agency?
Without taking the time to vet and find a digital marketing or SEO agency with years of experience, expertise, and a solid track record of results, you are throwing good money after bad.  The practice of SEO is a crowdsource regulated industry and not an exact science. Much like practicing law or medicine (only with no official degrees). Unfortunately SEO is diluted with many Black Hat SEOs, churn and burn large corporate agencies, and self-proclaimed SEO experts who will do more harm than good to your website rankings.  There are also overconfident graphic designers or part-time web designers who think that doing SEO is nothing more than installing an SEO plugin and adding a few titles & meta descriptions. Many of these characters are not intentionally doing harm to your website rankings. Some actually believe they know all there is to know about search engine optimization from a single seminar they attended and some simply don't care.
You need to find an experienced SEO agency that is transparent about what they are doing, their results and cares about your business. They also should be realistic about what you can expect, and be a good fit for your business.  A top SEO agency's team needs to constantly keep up and adapt the the latest Google Algorithms and follow best practices for SEO writing, code and campaign execution. 
I hope this information helps you become more informed about the power and pitfalls of search engine optimization. If you'd like to start a real conversation with our team to see if we can help you, call us at 330-331-1789 or contact us today for a no-obligation free initial consultation.